READ AN EXCERPT BELOW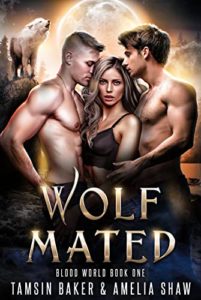 When a protective wolf shifter and a possessive dragon shifter turn up on her door, both claiming to be her mates, Sadie knows she can't cave to her desires. Not with her father's killer still on the loose. As she fights the pull to the two arrogant, sexy, smoking hot shifters, she inadvertently discovers something a lot more sinister than her father's murder going on.
~ check prices before you buy ~
Mental note. Just because this guy is going to become your best friend in the whole world, does not mean he doesn't want to be treated like he's your reason for existing, just as much as Fridge is.
I stood up, stumbled forward, and sat down on his lap.
The alcohol had definitely gone to my head. My legs were slightly shaky and there was a strange, hot, zing of awareness along my arms and legs.
Perfect.
I finished the rest of my drink, then placed it on the table before I put my arms around Rogan's neck.
"Are you wondering how I feel about you, my wolf?" I asked, smiling up at him.
His hands slid around my waist and his gaze shifted, his gorgeous blue eyes sliding into a silver.
"Of course, I am," he said, shuffling us both as he sat up straighter in his chair. "I know I'm not a dragon shifter, but I still want you. In every way. Fated mate, or not."
I ran my fingers up the back of his neck and tangled them in the hair on the back of his head, cupping his skull.
"You're my fated mate as well, Rogan. I knew it the moment I saw you. Don't you feel it, too?"
His eyes went wide. "I do. But… how is that possible?"
I shrugged. "I don't know. But my dad always joked that it would take more than one man to handle me. I didn't believe him, of course. In fact, as I'm only a quarter wolf, I wasn't sure I'd have a fated mate at all. I was quite settled on the fact that I'd have a normal marriage."
"So, your parents weren't fated mates?" he asked.
I ran my nails through his hair, over and over again, and he arched into my caress.
I tilted my head to the side. "No, I don't think so. My dad never referred to my mom in that way, and I was too young when she died to have heard it from her."
Though, it wasn't impossible. After all, my father had never moved on after she died. Few people had that sort of devotion unless they'd lost their fated mate.
"Then how do you know so much about it?" he asked, then dropped his head, putting his face into my neck and breathing deep.
Desire began to spiral inside my veins, my eyes closing on a wave of lust. "Ah… my mother's family. My dad's uncle. They all talked about it. Explained to me how it would feel."
Rogan lifted his head so that his lips were near my ear. I dug my fingers into his shoulders and clung to his heat, wanting him as close to me as possible.
"How do you feel, Sadie? Tell me."
I shivered, moaning at the intense heat pulsing through my body. He was so close, so kissable. If I just…
"Tell me, beautiful girl. How does the fated mate bond feel to you?"
I tried to open my eyes, but I couldn't. The alcohol was keeping my limbs heavy and my eyes closed.
"Like an addiction," I said, swallowing hard as I fought against the need to give him the full truth. The alcohol, unfortunately, lowered all inhibitions. "Like I need you, want you, crave you. I want you to fight me… fuck me. I want you in every part of my life, and I never want you to leave me."
He groaned in my ear. One hand went down to cup my ass and the other came up to grab my cheek.
He guided my face toward his and our lips finally met. I gasped at the heat of his touch, the perfection of his mouth on mine.
And when he pressed deeper and swept his tongue through my mouth, I melted into a puddle.
The doorbell rang. We sprang apart like a couple of teenagers caught on prom night.
Rogan frowned, glancing toward the sound. "Who…"
There was a loud pounding on the door that could mean only one thing.
The dragon was here.