EXCERPT INCLUDED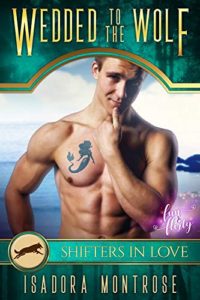 Curvy mer-princess Justine only intends a fling with hunky wolf Drew. After a bad marriage, this mermaid doesn't want to be bitten by love, let alone by a werewolf. But this dominant, protective Marine burns to give BBW Justine a second chance at love; must he choose between his pack and his fated mate?
Justine~
She got to work on time. Which was a surprise. She and Drew had spent way too long in the shower. But as he had informed her, a couple couldn't be too clean. Yet she didn't feel clean. She felt dirty.
Not smutty dirty the way her ex had made her feel. But sexy dirty. The way being done by an expert made a gal feel. It had been a long dry spell. But after last night and this morning, she felt half-slaked.
She wasn't going to try to fool herself into thinking that what she and Drew had going on was some sort of happy ever after. That wolf was a total hound dog. But their celebration last night did draw a line under her experiences with Chris.
Long hours of hot and sweaty sex were exactly what she needed. She didn't know how long Drew was going to be satisfied by a chunky mermaid with practically no experience. But she intended to let their newly launched affair play until he lost interest. Besides, she was a quick learner. Hadn't she proved that last night and this morning?
She slipped into her office without seeing anyone but the kitchen staff. They greeted her with knowing smiles, but didn't say anything. Still, she was one hot blush by the time she sat at her computer.
Justine Merryman might be transitioning from downtrodden mermaid into a modern woman, but she was still a small-town girl. She knew rumors were flying, and she was about to get some blowback.
At ten fifteen, her door opened and Mom came in. "Is it true?" Pearl demanded hoarsely.
"Good morning, Mom. Is what true?" she asked as innocently as she could manage.
"I heard at the Bean that that werewolf spent the night at your place." Mom made 'werewolf' sound like 'sex fiend'.
The Bean was the coffee shop where the locals gathered for hot pastries and hotter scandal. Justine was sure the gossipers had been wagging their tongues before the coffee was brewed. Drew's SUV had stayed in her driveway until morning. By now the town probably had them fornicating in the street.
"We were celebrating," Justine said as calmly as she was able. She cursed her fair skin. With her hair, crimson was so not a good look. "Chris' appeal was denied."
"You were celebrating all night?" Mom used her fingers to put scare quotes around celebrating. Her eyes were round with wonder – or horror.
"Yup." Justine felt her face growing hot. "I thought it was time I let down my hair and had a good time."
Mom plopped down in the chair by the supply cabinet. "With a werewolf? Justine. How could you? It's all over town. Your father will be ballistic."
"We've had this discussion before, Mom. I'm thirty-four. I think it's my business who I sleep with."
"Tell that to the king."
"I will. I love Dad. But I think I'm entitled to a private life that is not supervised by my parents."
Mom nodded like a bobble-head doll, but she looked skeptical. "Have you met your father?" she asked wearily.
Justine knew precisely what Mom was getting at. Dad was a navy veteran. A former officer. Ruler of the mer-people of Mystic Bay. An overprotective, take-charge, my-way-or-the highway alpha male. Just like Drew.
Which was another reason why there could never be anything long-term between her and Wolfmann. As soon as they spent more time together, they would start to butt heads. Exactly like her and King Roger.
No way was she going to doom herself to a life like her Mom's, always tiptoeing around a husband who wanted to do her thinking for her. She and Drew were going to go at it like bunnies until this explosive, red-hot, totally-doomed attraction fizzled out.
"Twelve years is nothing. Wabash will be out on the street in five or six years." Mom's voice was bitter.
"I know. Just be grateful Chris didn't get a suspended sentence. I'm trying not to think about him getting time off for good behavior."
"Oh, Justine," Mom practically wailed. She floated to her feet. They met in the middle of the office in a hug. "That bastard. Tell me the truth, honey, did he have a psychic talent for persuasion?"
"I don't know. Maybe for charisma? He certainly charmed me."
"Charisma isn't a talent. It's more like a character flaw."
"A flaw?"
"I always mistrust charming men. They sweet talk their way through life without putting in any hard work. You take your Dad, charming he is not. But you can take his word to the bank."
"This is true." Kind of like Wolfmann.
Mom gave her a last hug and a kiss on the cheek. "Damn straight, it's true."