EXCERPT INCLUDED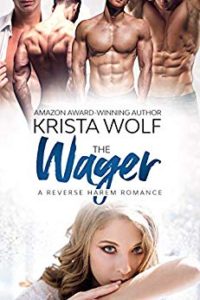 When Payton takes a Corruption Quiz with her friend Kennedy, she scores abysmally low. So low she decides to spice up her life a bit – especially when the two friends place a bet as to who can most improve their score over the next thirty days.
"Payton?"
I cleared my throat. For some reason, I was trembling. "Yes?"
"Get undressed and get in here."
It wasn't a question, it was a full-blown command. An assumption so bold and unyielding it blurred the lines between being absolutely reasonable and totally absurd.
It was also exactly what I needed.
I took another step forward… and slowly pulled my shirt over my head. I dropped it unceremoniously to the floor and shimmied out of my bottoms.
Here goes nothing.
Back in the shower Jackson had turned up the heat. The steam washed over me, making everything seem that much more surreal. I couldn't even see myself in the mirror.
"Now we're talking."
A hand reached out, and clapped itself over my naked ass. Well, near-naked ass. I still had my thong on.
"Damn you're beautiful."
He pulled me in, sliding the door closed behind me. And then there I was, feeling the warmth of the water against my skin. Letting it flow down me in rivulets and streams, as I was crushed tightly against his hard, heated body.
My God…
His arms enveloped me, cupping my ass. Pulling me against his nakedness as he lowered his mouth to mine, and drank deeply from my trembling lips.
"Do you always shower with strangers?" he murmured playfully into my mouth.
I shook my head and kept kissing him. He could've said anything, it wouldn't matter. Nothing mattered except the feel of his hands on my body. The tightness of his muscles pressing against me. The raw strength of their power, residing just beneath his sun-bronzed skin.
No matter what, I couldn't get enough.
"Turn around."
He didn't give me a choice, really. One second I was kissing him, the next he'd spun me in completely the opposite direction. Jackson kept one corded arm around my waist the whole time. He pinned me tightly against him, my round little ass settling somewhere against his naked thighs as he leaned over my back.
"This… right here."
A hand shot down my stomach. It sent bolts of lightning through my legs as it settled somewhere in the valley between my thighs.
"It's fun and all," he murmured into my ear. "Cute too."
I sighed as he broke the waistband of my tiny thong, pressing three fingers against my mound. Each of his thick fingers felt like two. When he began rubbing in circles, my eyes crossed.
"But it's really gotta go."
In one smooth motion he wrapped my thong around his big wrist. Grabbing the other side with the hand around my waist, he pulled hard in opposite directions.
SNAP!
The thin fabric gave way almost instantly, shredding at the crotch.
"There, that's better."
There was a tug as Jackson pulled my ruined thong to one side. Then I could feel it: the heated bulge, pressing against the small of my back. Thick. Swollen. Heavy…
Oh wow…
He bent his knees and maneuvered lower, until I could feel the warmth of the bulbous head poised snugly against my dripping, throbbing entrance.
"When's the last time this thing's been taken care of?" he growled.
I gasped at the question. My mind spun dizzily.
"F—Five months. Maybe—"
"I mean properly taken care of."
I looked down the length of my trembling legs, wondering what the answer was. Fearing in the back of my mind that maybe the correct answer was never.
"Doesn't matter," Jackson grunted over my shoulder. "I'm here now."
I let out a whimper as he leaned forward, parting my folds. Lining himself up for the inevitable push that would join us forever, irrevocably, as lovers.
"Tell me you want this," he hissed, throatily.
His hands tightened their grip on my hips. His fingers were like tiny steel cables, digging in.
"You need to say it, Payton. That's how this works."
I braced my hands on the shower wall in front of me.
"I want this," I breathed. Taking a deep breath, I arched my back and closed my eyes. "My God, how I want th—"
The rest of my sentence ended in a shuddering gasp, as he filled me from within.
Amazon US Amazon UK
~ check prices before you buy ~