---
We have an exclusive FR*EE*BIE via our chat bot.
---


I've made lots of mistakes. But never one like this. Years later, I'm still at the top of my game, ruling my own chunk of the world. She a different woman. Strong, sexy, and dead set on revenge. I need one more chance — and I'll do anything to get it.
~ c

heck prices before you buy ~

He text dumped me now I have to pretend to be in love with him. Never thought I'd see Jacob again after he texted I'm leaving we cant be together anymore. Then I post a vibrator video to my company's instagram. I have one shot to smooth things over with my boss, pretend to be in a relationship with a stranger. Except it isn't a stranger — its Jacob.
~ c

heck prices before you buy ~

I had all the success that a self-made man like me could want. But something was still missing. Ready for a break, I returned to my home town to find myself. And found her, Riley-Ann. And nothing was going to stop me from winning her…
~ c

heck prices before you buy ~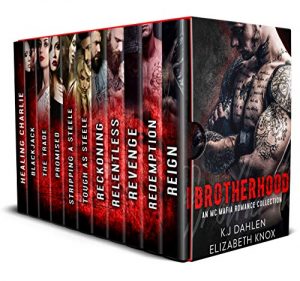 Together we have an undeniable bond.  We may not be cut from the same cloth, but at the end of the day, the same things matter to us: family, honor, and sacrifice.  All of our enemies are interconnected, and so are we.  The question is, who will win — them or us?
~ c

heck prices before you buy ~

Rose Delaney is a baby bounty hunter, rescuing children from fugitive ex-spouses. All she wants is to return a recovered child to its mother and get back to her regimented solitary life. But when a snow storm leaves her and baby Emmy stranded, Rose has no choice but to lean on the ruggedly handsome rescuer, who thinks the baby is hers.
~ c

heck prices before you buy ~

Since moving to Mystic Harbor, Maine, I've made it my life's mission to avoid Reese Blackburn at all costs. Sure, he has cheekbones that could cut glass, not to mention bedroom eyes that could melt any girl into a puddle on the floor. Too bad that doesn't change the fact he's completely stab-worthy…
~ c

heck prices before you buy ~

All I wanted was freedom. Instead, I'm married off to an elite prince; a symbol to unite the two races. It was the perfect system. My body and blood, in exchange for the healing elixir and the purification engines that guard against the poisonous sky. But once I reach the palace citadel, I discover more dangers than beasts outside the gates, and more power than I ever imagined…
~ c

heck prices before you buy ~
---
Don't miss giveaways, special events and other goodies…
* NEW *  Join us on
---
Looking for spicier reads?
---