We've found a red-hot read that we love so much, we're sharing an except with you!  Just scroll down to enjoy the juicy excerpt…
And it's on sale for just 99¢!
---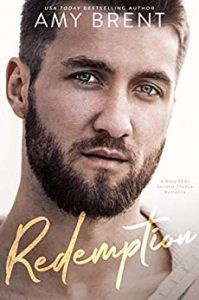 I swore off men. Forever. Period. The end. I'd moved on. Until Ben Taylor walked into my camp…
~ c

heck prices before you buy ~
~ EXCERPT ~
She opened the door. Fuck she was gorgeous. Her hair was swept up in a beautiful braid. She was dressed in a mauve sweater with a gray, A-line, pencil skirt. My frog came back to my throat, but I pushed it away. I needed to say what I needed to say.
"Lindsey, I came to talk about the other night at the bar. I just—"
"You just what?" she snapped.
Her tone was ruder than I'd expected it to be. This might not have been my greatest idea in the whole world. "Well, I said what I said because it was the truth. I did what I did all those years ago because it felt right."
"Really?" She tapped her foot and crossed her arms. "And you never thought about it after that? You just joined the Navy and pissed off for good?"
I corrected her. "The Navy SEALs."
"Jesus Christ, Ben, is that all you think about, the need to be right in your own damn mind? It's all about if Ben's okay; this movie you're in is called Ben's World. Your only concern is how everything affects you."
"What?" I felt like this wasn't going in the direction I'd imagined it would.
"You come here uninvited and try and apologize, without actually doing it. You still need me to tell you that it was alright? Is that it? I can't tell you it was alright. It wasn't. I cried for days on end. I wanted to find you and explain, but you changed your number and you never let me try. I don't understand why the hell your damned ego is so fricken important. Weren't you sad? Or Mad? Didn't you miss me? Didn't you know that you broke my heart?" She took a deep breath. "I gave everything to you back then, my whole heart on a platter with all the trimmings. I thought I was your forever girl. You up and left when I did nothing wrong. You believed a guy with the IQ of a mouse, and there you go. Then you got married, and even had a child!" She stopped, realizing she was going off on a tangent she probably didn't want to bring into the conversation.
She huffed and walked out of the office as I followed her, blindly, like a lamb that needed its mother. She went straight out and began setting up on the lawn. Archery was obviously a planned activity for their women that day. Nicole was there, trying to keep out of the conversation—the one which wasn't even happening because Lindsey acted as if I wasn't there anymore.
"Can I help you guys set up?" I asked.
Lindsey walked with her back to me as she used a tape to measure and ascertain the distance she wanted. "No, we're absolutely fine here," she snapped, hitting me hard in the ego I wasn't supposed to have.
"Can I talk to you, please?" I asked.
There was silence, and I got it. I'd been an asshole in the past, but I was trying to apologize. Couldn't she see that? Was it that weird male/female vibe where we were both on different planets? I was from Mars, and she was from Venus. I don't know, I remember this book that one of the guys had been reading during training for the SEALs. I guessed that there were a lot of men and women that couldn't understand one another. My wife had been a woman I thought I knew who turned out to be something I never expected her to be. It was a huge problem. But I wasn't an asshole, not intentionally. Yes, I'd made a mistake all those years ago, but how would I go about making it right when she didn't even want to look at me? Fuck, the whole scenario was driving me bat-shit crazy.
I didn't know what else to say, so I blurted out the next best thing that came to mind, as stupid as it must've sounded. "Is archery good for mending a broken heart?"
"Yes, actually. You picture the person's face that did it to you, and you aim and fire until you hit it. It feels amazing when you get the target! Especially if they have light brown hair and green eyes!"
---
Don't miss giveaways, special events and other goodies…
* NEW *  Join us on
---
Looking for spicier reads?
---