NEW
He's a hot single dad. A military man with abs of steel. My brother's best friend. My biggest enemy. And now my fake date to my best friend's wedding. Disasterville, here we come…
Nothing could've prepared me for Riley Nichols–the farmer's daughter with coal-black eyes and a fiery tongue. She took me by surprise, mesmerizing me with her strength and tempting me with her innocence. I wanted to make her mine, but having her meant breaking my rules–every last one of them…
BOX SETS
No one can survive the darkness alone…
Chalk full of fiery, forbidden romance and irresistible, misunderstood heroes, this set will captivate fans of paranormal romance and lovers of all things gothic!
99¢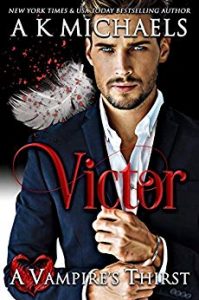 Victor Strong, ancient Vampire and hard-as-nails businessman, is strong in name and nature with a steely control over everything…until it comes: A 'Thirst' he has no control over and cravings for blood and other, darker and more enticing desires, rapidly growing out of control. As if to answer his prayers for a cure to his madness, a sweet, tantalizing scent casts a spell over him…The hunt is on and he can't fail. If he does both their lives could be lost.
They sent me to kill her, but I couldn't pull the trigger. The senator's daughter is innocent in every way imaginable, and now she's mine. I'm keeping her. She thinks she can run from me. She's wrong. This is my mountain…
I know it's wrong to desire my bodyguard at a time like this.  Especially when my fiancé was just murdered in cold blood at my concert.
FR*EE
In this steamy romantic comedy, cougar shifter Ryan is compelled by the head of his clan to marry single mom Claudia. He's thrilled at the prospect of becoming a dad, but alpha male Ryan has never met this curvy witch. How can a forced marriage unite these two as fated mates?